Come bring the kids or come yourself to the celebration which includes games, crafts, activities, & cake.  The festivities will be Saturday, February 28 from 12 to 4:30 p.m. in the lower level meeting room.  Also we can celebrate the publishing of a new Dr. Seuss book this summer, "What Pet Should I Get?"  Here's some books to enjoy on Dr. Seuss.
Dr. Seuss : American icon by Philip Nel  (B S496n)
Readers will "come away enlightened about the talented man who wanted to wake people up to events in the world and leave a moral legacy for children."  Nel eschews all but the most necessary details of Dr. Seuss' personal life, but, using numerous, specific examples of his writing and art, digs deeply into the work, including a particularly intri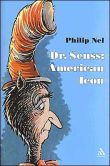 guing discussion of Dr. Seuss' pre- and post-World War II politics."  Booklist
Dr. Seuss & Co. go to war : the World War II editorial cartoons of America's leading comic artists by Andre Schiffrin  (940.530207 S333d)
"Schiffrin describes this book as "a companion and a sequel" to Dr. Seuss Goes to War: The World War II Editorial Cartoons of Theodor Seuss Geisel, compiled by Richard Minear (1999). Indeed it is, with 124 cartoons by Dr. Seuss and 179 by artists including Al Hirschfeld, Carl Rose, and Saul Steinberg, who were not associated with newspaper editorial cartooning."  Choice Review
Dr. Seuss & Mr. Geisel : a biography by Judith Morgan  (B S496mo)
"This witty and charming biography of the highly original genius, Dr. Seuss (Ted Geisel), maintains suspense as the authors unfold the facts of his life and art. It is full of wry Seussian limericks and interesting anecdotes, among which are his failed invention of an Infantograph and the mad pranks played by Seuss on rival artists."  Library Journal

Dr. Seuss goes to war : the World War II editorial cartoons of Theodor Seuss Geisel by Richard Minear  (940.530207 M664d)
This book features handsome, large-format reproductions of more than two hundred of Geisel's cartoons with commentary by the historian Richard H. Minear.
Dr. Seuss, the cat behind the hat  (759.13 S496.g)
"Everyone who grew up entertained, provoked, and enlightened by Dr. Seuss books will love this big, color-saturated volume covering 70 years of published and private art by the master of smart, loopy fun. Here are examples of Theodor Geisel's clever, now ironic advertising work, including a rambunctious campaign for Flit, an insecticide containing DDT. Geisel's political cartoons and magazine illustrations are animated by his phenomenal gift for line and color, mischievous humor, and humanitarian values." Booklist
You're only old once! by Dr. Seuss  (817 S496y)
Classic picture-book ode to aging.  "This comical look at what it's like to get older is ideal for Seuss fans of advanced years." Amazon