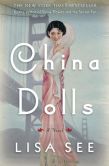 Librarians have voted and the results are in for the top ten books that will be published in June.  Included on the list:

"China Dolls" by Lisa Sees, "Set in 1938 San Francisco, this book follows the lives of three young women up through WWII."

"I Am Having So Much Fun Here Without You" by Courtney Maum, "Set mainly in Paris, this love story for grown-ups tells the story of a decent man who almost ruins his life and then goes to great lengths to restore his marriage."
"Hurricane Sisters" by Dorothea Benton Frank, "Having just completed my annual trek to the Carolina Lowcountry, compliments of Dorothea Benton Frank, I'm happy to report that a good time was had by all."  (Just read this book and agree)
"The Matchmaker" by Elin Hilderbrand, "Set in romantic Nantucket, Hilderbrand's newest novel is a heartwarming and moving story about the power of love."