Download eBooks & Audiobooks
Links to helpful instructions on how to download
eBooks & audiobooks to your device.
Big Library Read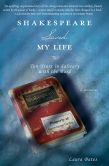 "Shakespeare Saved My Life:" Ten Years in Solitary with the Bard by Laura Bates
The Big Library Read is a "global eBook club," connecting readers around the world who read the same eBook, and listen to the same audiobook at the same time.  Between March 17 - 31, the Big Library Read title is available for checkout through the Wisconsin Digital Library site.  It's free, and there's never a waiting list.  Then join the online discussion with other readers.